Why use TIG Brush Technology?
The TIG Brush Stainless Steel Weld Cleaning System creates a unique combination of electricity, heat and chemistry to deliver superior results in weld cleaning and metal surface finishing. Its proprietary, conductive brush applies cleaning fluid to the work surface, producing an electro-chemical cleaning action with astoundingly fast and effective results. Driving the TIG Brush is Ensitech's Dynamic Power Transfer®. This patented technology maximizes the efficiency of heat transfer to the work surface and ensures optimum performance in demanding operating conditions.
At the same time, Ensitech's low-toxicity fluids are custom-designed to maximise user safety and protect the environment. This powerful combination is the result of many years of product development, based on industry requirements. Ensitech's research and development division invests continuously in innovation as well as independent testing and validation of the company's products.
One-step Cleaning & Passivation
Extensive laboratory testing has confirmed that Ensitech's weld cleaning process passivates stainless steels in accordance with ASTM international standards. The intense heat generated during welding of stainless steel causes oxidisation and chromium depletion in the alloy's surface layer, as well as unsightly heat tint around the weld area.
Independent testing by Gauge Industrial and Environmental, using a Scanning Electron Microscope (SEM), has shown that cleaning with a TIG Brush and genuine TIG Brush fluids removes detectable oxides from the weld zone and returns chromium levels in the surface layer to the levels found in the unwelded surface. The tests found cleaning with a TIG Brush to produce results equal or superior to pickling paste, with the safety of TIG Brush technology. These results have also been confirmed by and independent passivation report conducted by The Welding Institute (TWI) in Cambridge.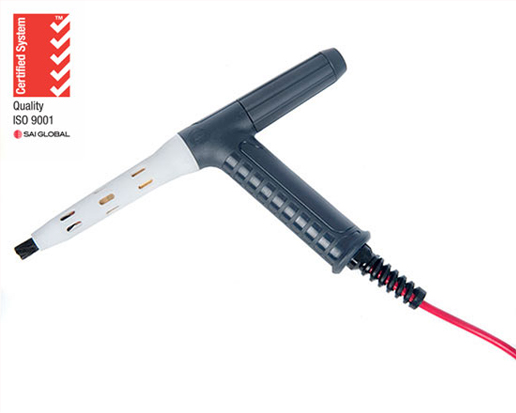 TIG Brush PROPEL Torch™
Ensitech (Australia) introduces the world's first adjustable
weld cleaning torch
>

THREADLESS BRUSH SYSTEM PATENT PENDING.
QUICK RtELEASE BRUSH FOR USE WITH THE TIG
BRUSH WELD CLEANING SYSTEM
View Details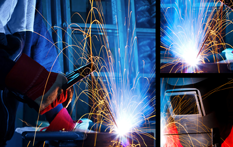 APPLICATIONS
TIG Brush Weld Cleaning System by Ensitech (Australia) can be used in a wide range of industries in India, such as:
Food & Beverage
Metal Fabrication
Oil & Gas
Architecture, Building & Construction
Marine
and many more
Videos
Marking and Etching

Training Video For TBE/X-440,550,700

TIG Brush Stainless Steel Weld Cleaning System

Ensitech TIG Brush - we make stainless steel stain LESS
WORLD CLASS
TIG BRUSH WELD CLEANING SYSTEMS
NOW IN INDIA
For better quality, faster work and longer lasting results
Welding systems are used in industries such as Food & Beverages, Oil & Gas, Metal Fabrication, Architectural Building & Construction, Marine and many more. By introducing TIG Brush Systems in India, Power2U Technology India Pvt Ltd has created a great opportunity to save costs while using world class welding systems and technology.